Our Staff at Family Chiropractic
In addition to our team of three board-certified, licensed chiropractors, Dr. Martin Rodgers DC, Dr. Bryan Rodgers DC, and Dr. Luke Badman DC, Family Chiropractic Wellness Center has a complete staff of qualified and experience associates to offer the finest in chiropractic care and massage services.
Our staff has a combined 100+ years of experience, and are dedicated to providing the finest quality of services in the Central Pennsylvania area. Our staff is dedicated to providing wellness services to keep your whole body working at its maximum performance.
Denise Barbieri, Licensed Massage Therapist
Denise Barbieri is a licensed massage therapist and member of the Family Chiropractic team since 2005. A graduate of the Baltimore School of Massage specializing in Therapeutic, Neuromuscular and Relaxation massage. "I believe chiropractic care and massage are key components to optimal health and wellness". In her spare time she enjoys reading, gardening, traveling and spending time with family.
Mindy Dalmas, Rehab Tech
You can find Mindy in our Rehab Department and she started with Family Chiropractic in 2011 as a massage therapist, later moving to the Rehab Department. She love's working with new patients and seeing them improve their health.

Mindy and her family (Andrew, Sydney and Paisley) live in southern Lancaster County. On weekends they like to be outside hiking or at a park. They also enjoy spending time with family and traveling.
Anita High, Chiropractic Assistant
Anita has been married for 25 years to Tim and they have a son and daughter. She is a graduate of Ephrata High School and Lancaster Bible College. She came to Family Chiropractic after 25 years of retail hoping to make chiropractic her second career for the next 20 years.
Anita's hobbies include running, gardening, music and film.
Michelle Hildebrand, Front Desk Supervisor
Michelle has worked at Family Chiropractic for almost 10 years and thoroughly enjoys being at the Front Desk to greet our many patients. "I love getting to know all of our patients and learning about their families and lives!" Michelle has been married for 36 years to Jim and they have lived in Lancaster County most of their lives. They have four children and NINE grandchildren!!
Michelle enjoys trips to the beach, camping and spending as much time as possible with their grandchildren.
Dawn Tluczek, Director of Strategic Implementation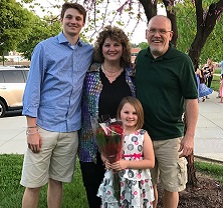 Dawn comes to Family Chiropractic as a former patient who truly believes in the practice and wanted to be a part of it. She brings to us 30+ years of sales, marketing, customer service and management and oversees Marketing, Outside Events, Community Outreach as well as the Human Resources/Relations and Purchasing of the practice.

Dawn and her family (Darryl, Jacob and Kalia) live in Lancaster and are very involved in their community and schools. They enjoy attending the kids activities with music and sports as well as enjoying time visiting with family/friends, playing games and cards, fishing, boating, and working on their home together. Their family just became members at Mission Church (formerly Harvest Bible) and are looking forward in getting more involved at the church. Dawn volunteers with several committee's and boards including: Lancaster County Republican Committee Leadership Team, President of Women's Republican Club, Lancaster County Career & Tech General Advisory Committee, Lancaster Bible College Sports Advisory Team, Lancaster Chamber of Commerce Ambassador Team, Red Rose Connections, Lancaster Networking Group, VP of Marketing with ABWA and the Lancaster Liederkranz.
Jacob Rissmiller, Billing & Marketing Intern
Jacob has been assisting our office in the billing and marketing departments since Spring 2018. When not working in the office he enjoys playing sports and spending time with family & friends. Jacob is a recent graduate of Hempfield High School, plays Varsity Basketball and returned to HHS Varsity baseball in the spring 2019 after taking some time off with an injury.
He is involved in the school Varsity Club, FBLA, serves as the Vice President for the Hempfield Young Republicans and is involved with the Hempfield Knight Program. Jacob is anxious to graduate and looking to attend East Stroudsburg University with a focus on sports marketing and business.
Keith Rodgers, Facilities & Rehab Manager
Keith has been with Family Chiropractic since 2012. He is the son of Dr. Marty and the brother of Dr. Bryan. As our Rehab Manager, Keith is certified in the Kennedy Decompression Technique and ATM rehabilitation therapies. He firmly believes in the healing powers of Chiropractic care and enjoys seeing others experience the benefits the body is capable of.

In addition to working with us here at Family Chiropractic, Keith is an Adapted Physical Education teacher with the Lancaster-Lebanon IU13. When not working he can be found spending time with his wife Rachael and kids Annabelle and Grayson.
Kaylor Rosenberry
Kaylor comes to us as a recent graduate of Messiah College with a degree in Exercise Science and Psychology. While she was a student at Messiah she also played field hockey and was a part of the national championship team during her Sophomore year. She loves running, learning sign language, traveling and spending time with family.

"I love my job because I get to walk alongside people during their healing process. It is awesome to see holistic practices and habits change someone's health and happiness every day!"
Ruth Wampler
Ruth has worked in healthcare for many years. Recognizing the benefits of manual therapy in the field of healing, Ruth attended the Lancaster School of Massage and completed a 600 hour program to receive her license in 2018.
Ruth provides an integrated therapeutic massage using Swedish, Neuromuscular, Myofascial and Reflexology. She works with our clients to determine what areas of focus are needed and works within their comfort level.
"Whether the client is looking for primarily relaxation or more specific results, such as pain relief, increased circulation increased range of motion or easing symptoms of depression and anxiety, I believe massage is a drug-free option to gain optimal health and wellness."
Shelby White, Chiropractic Assistant & Rehab Assistant
Shelby is a recent graduate of Cocalico Senior High School and enjoys playing basketball and track along with staying involved with many community events. She will be attending the University of Pittsburgh to study biology in the fall and eventually pursue a career in the medical field.
Through working at Family Chiropractic her love for the practice has grown and has influenced her to consider chiropractic as a life-long occupation.
Brenda Winebarger, Manager of Financial Services and Compliance
Brenda has been employed at Family Chiropractic for almost 12 years and overseeing the office and billing department. She enjoys working with patients and helping with their billing and insurance needs. Brenda oversees all of Billing and also serves as the Compliance Officer of the practice.
Brenda and her husband, Weldon, live in Kissel Hill. They are very actively involved at their church where Brenda teaches Bible Class and serves as the Church Secretary. Weldon and Brenda have been married for over 40 years and have two grown children, April and Nathan.
Brenda loves snorkeling, traveling, crafts, reading, shopping and spending time with her three preschool grandchildren that helps her to stay very active and young at heart!
Certifications & Memberships

We are proud members of several local, state, and national chiropractic organizations, including the International Federation of Chiropractors and Organizations, World Chiropractic Alliance, Chiropractic Fellowship of Pennsylvania, and the Lancaster Chamber of Commerce & Industry.
Schedule an Appointment

To schedule your first appointment with Family Chiropractic of Lancaster, call us at 717-207-7849 or use our online form.